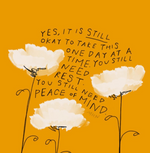 Yes it is still okay to take this one day at a time. You still need rest. You still need peace of mind.You are holding so many things. Remember to make space to slow down and breathe.

For all of the things that break your heart open that you have not been able to fix, what matters is that you have been present with hope, grace, and courage.

Keep your heart open to the possibility of what is beautiful and true beyond what is seen.

- MHN