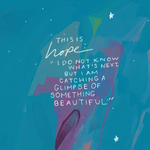 I Am Catching a Glimpse of Something Beautiful
This is hope:
I do not know
what is next
but I am catching a glimpse
of something beautiful.
I am finding
grace-lined strength
even though I wasn't sure
I could make it this far.
I am finding flickers of hope
as radiant and immeasurable
as the stars.
And even though
new fears still find me
and the ground feels shaky
beneath my feet,
I will trust that hope is still real
even if seems far beyond me.
And maybe
after everything
I am not as lost
as I feel,
and even here
there is room
to breathe
rest
heal.