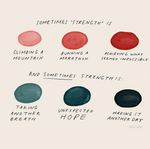 Breathe. Remember that it is okay if strength looks different season to season, day by day.
You are worth the quiet moment.
You are worth the deeper breath.
You are worth the time it takes
to slow down, be still, and rest.

III

Today, her strength is quiet.
A gentle, wordless thing.
Not bright like morning light,
but felt,
like wind,
funneling through crowded streets.
A flicker of hope,
amidst unknowns:
Maybe I can carry on.

Silent Night, Holy Night,
All Is Calm, All Is Bright

The music finds its way to her ears
but as she fixes her lips to sing,
she cannot help but think:
these moments have been anything but silent.

What are you bringing?
How much did you buy?
When will everyone else arrive?

So much is being asked of her.
So much is being asked of her.
And day after day,
this question persists:

When, oh when will I ever be able to rest?

And as she travels through the day waiting for answers
in the wild of her midday wonder,
she is slowly beginning to realize sometimes,
'Strength'
is the ability
to take the following breath,
a flicker of hope
to carry on
without knowing
what comes next.

And perhaps, even here,
she is free to give her every effort
without succumbing to the pressure
That she has to do every single thing.
She is free to be still and breathe,
and this too, is strength.
This too, is growth,
and it matters in seasons like this.

III

Make room for the silent night,
a gentle, resonant delight
of stillness in the chaos,
and grace to breathe and rest.
- MHN