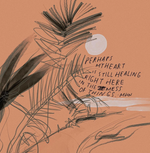 Perhaps My Heart is Still Healing
Even if they never say
what you wanted them to say,
I hope you find peace, anyway.
I hope
in the gaps,
where closure seems impossible,
you can breathe deep and trust:
here, in this space,
you are worthy of love.

You are looking around and noticing
how everything is different now,
your mind is anxious about answering,
"how are you?"
and "it's been a while…"
and your hands are restless
in your lap
as you fight your way through the small talk.

And I just hope you know that if your joy
does not burn
like a shooting star tonight,
it is still alright
to do what you can
in the moment, at hand.

Through every could've-should've-done this,
being present is what matters,
even if it means
softer laughter,
longer pauses,
shorter days,
new boundaries and new bridges,
slowly taking their grace-filled shape.

Because perhaps
in the mess of things,
your weary heart is still healing
and the uncertainty around you
cannot hinder the peace within you,
and Light will pour through
these cracking, falling leaves
and you will be free to grieve
or dance
or sing: "I do not know

what lies ahead of me

but I will pursue peace.
I will trust in the mess of things,
I am loved. I am seen.
I do not have answers
for everything
but I am letting joy
into my heart.
I am healing,
here, on the journey,
no matter what is torn apart.
I will make it through
this week
looking for Light
in little things.
I will know I am whole
and in grace,
I am not missing
anything."
- MHN