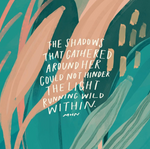 A few months ago,
you lost more
than you ever thought you would.

The shadows of grief
begin to gather
like mounds of dust
at your feet,
and you begin to feel
their weight
in every move you made.

And even though you knew
Light would find you,
you could not seem
to make yourself
see the sun
the way you used to.

Because
how are you supposed to
see the beauty in everyday,
when what so beautiful was lost
in the most unimaginable way?

There are no easy answers
for the things
that grief has made you feel
but there is
endless peace
rushing in
to reveal:
these shadows
are
so
heavy
but you are free
to move within them.
You are free
to trust
there is room
for your mourning
and your dancing.

And as the months
and years move past you,
you might go in and out of sorrow,
and you might worry about tomorrow
before you remember peace again.
But the shadows that gather then
will not hinder the Light within
even when you are grieving
and hope feels ever-absent,
you are free
you are free
to trust
and believe
these shadows will not hold forever
and maybe you could even
dance within them. —

The shadows
that gathered
around her
could not hinder
the Light within
that gave her an unexplainable joy
and peace that had no end.
Because even though she knew
things would never be the same
and it would take time
to feel "normal"
after so much
had changed,
she knew that she was free
to feel
and to heal,
for the shadows
would not keep her
from all
Light would reveal.

Sincerely,
Morgan Harper Nichols

Thanks for reading ♥️ As always, each piece was written and created with one person's story in mind. I sent it to them before sharing it here. You're welcome to send me a story via my site (morganharpernichols.com) or my DMs anytime. All stories are kept private. I randomly select people to write for throughout every week.