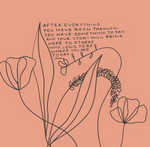 11-Year-Old You Would Be So Proud of You
11-year-old you would be so proud of you. She would be so proud that after everything you had been through, you were brave, anyway. And you kept trusting in the process even when you were afraid. And even though there are so many things you have yet figure out, you still chose to do your best with what you had, right here, in the now. I know it is so hard to see, but she would be so proud. 11-year old you would be so proud.

So keep telling your story. Keep living your story. I know you feel so far away from where you thought you would be, but you have come so far, and it is entirely worth to have gratitude for where you are. Somewhere in the world there's someone half your age who would be so grateful to be where you are today. She wouldn't look at you the way you look at yourself. She would see a woman who has overcome so much just be where she is, and despite all that fell apart, she is an example of grace and strength.

I don't know how you see yourself today, but I just hope you know you matter. Your progress matters. Your story matters. And no matter what someone has told you or what you have been made to feel, you can be proud of your progress. You can celebrate how you have come. You are allowed to tell your story even though it is not finished yet. - 💌 Email is open! 

Everything you see here was written with real stories in mind. People submit via my website and I write for them. I send it to them first before sharing it anywhere else. All stories and names are kept private.

You can send / resend a full story or just "I just need an encouraging reminder." I have always been inspired by real stories. Thanks for the privilege of creating with you.
- MHN