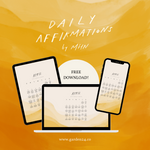 April 2022 Affirmations Wallpapers (Free Download)
Can you believe it's already April?

No matter how busy or rushed life feels right now, we hope that these 30 days of affirmations can encourage you to slow down for a moment each day to take a deep breath. When there's a lot of noise in life, affirmations are simple phrases that can help us remember what truly matters. At Garden24, we're all about discovering ways that art can share a hopeful message, even in the smallest way…and we'd love for you to join us in repeating these affirmations each day!

30 Affirmations for April to Help You Keep Growing:
Download them for your phone, tablet, or computer below.
Share them on social media with the hashtag #garden24affirmations - we can't wait to see your posts!
Click Here to Download the Phone Wallpaper
Click Here to Download the Tablet Wallpaper Here
Click Here to Download the Desktop Wallpaper Here
Here's to a grace-filled April!
-Morgan Harper Nichols and Garden24