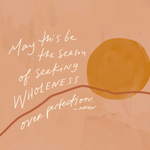 Wholeness Over Perfection
Wholeness.
The state of remembering
the whole picture.
The state of recognizing
that even when you have a lot to do
and your responsibilities are growing
to the height of mountains
around you,
you are not worthless
when you are not working.

Even when your work
at the end of the day
is left incomplete,
and you struggle
to feel like you are worthy
of quiet moments
and even sleep,
let your body itself
remind you
of what your soul
deeply knows:

give your all
to everything
including rest.
this, too is a part of your story.
this, too is wholeness.

Dare to take time to just be.
Dare to take time to figure out:
"who am I when I am not working?"
"who am I when I am not rushing
from one thing to the next,
trying to keep up,
struggling to catch my breath?"

We live in a world
where we ask one another
"what do you for a living?"

We straighten our backs
and narrow our focus,
fixing our lips to give whatever answer
makes us sound like
we know our way around
this unpredictable life.

We do this
because we know
that question is about doing,
not about being.
We know that question is about
working harder and failing less.
We know that question
does not give room
for relaxed shoulders and rest.

In the deep
well of your soul,
may you cling
to this truth:
this life is worth living
and it is not measured
by what you achieve.

Give room to breathe.
Soften into the reality
of wholeness.
What you need.
- MHN