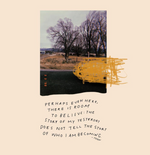 No Matter Where We Are, We Are Still Becoming.
On this day, some of us feel far from home, while others feel right at home. Some of us feel like we are running through an open field wild and free, while others feel trapped under canopies of winter trees. And I just hope we can all breathe deep and trust: no matter where we are, we are still becoming. We have not stopped growing. Our stories are still being written. Whether we are creating boundaries for our tender hearts or breaking down walls and softening our hearts...no matter our yesterday, today, or tomorrow, through the highs and lows, we will grow. There is still a greater picture. We have not seen all there is to see and that is a beautiful thing.

If you can, turn to your left and to your right today. Take a mindful moment for those around you, whether it's a stranger walking by or the friend you've known for years...smile inwardly at the thought: there is a reason why she is here. There is a reason you are here.

There is so much we have yet to figure out and we are each wrestling with our own shadows and doubts but somehow through it all, we are all breathing through this. We are making it through each moment one breath at time.

Each of these pieces was written with different people in mind and sent to them before I shared it here. I have never met these people face to face but I feel connected to their stories and even as I write for them, I am reminded of my own process of becoming. I hope these pieces speak to you too. Have a beautiful, grace-filled day. I hope that there is room for learning and growing here.
- MHN