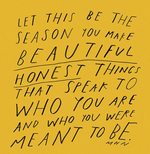 "Creativity" with Nikkolas Smith
I think one of the biggest myths about creativity is that it's all about making art. In reality, creativity is about the process and everything we learn while trying to make something new, no matter what the final product looks like. Creativity is a way to share a message we truly care about that otherwise may not have been heard. Creativity is a form of illuminating what's important that gets easily looked over or forgotten.

Creativity is many things, and for @nikkolas_smith, creativity is a place where he has found peace and he has also found an opportunity to educate.

@nikkolas_smith is an Artivist, children's book author, a Hollywood film illustrator. Here's a little bit of what he shared me about his approach to art:

"I kind of try to look at the world as a body and see where the broken bones are…always trying to paint a picture of that broken thing to shake people and wake them up, or paint a picture of what it would like if it was healed."

Check out his work and listen to our conversation on my blog! 
-MHN