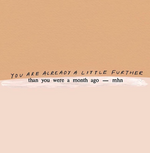 You Are Already a Little Further Than You Were a Month Ago
You are already a little further than you were a month ago.
You are already experiencing slow and steady growth.
You are not who you were on December 7th.
You have already lived through dozens of new sunsets
and nearly half a million minutes.
And through all of them, you were breathing.
Through some of them, you were even singing,
thinking,
dreaming,
hoping
for what was to come.

This is proof: you have learned to come alive
no matter the chaos around you
and no matter how long it seems to take
for Light to pour through.

So take a deep breath.
Allow yourself to count
every little thing that is slightly different
since a month ago, and realize
just how easy it is to lose count.

May you never mistake the slowness of a season
for a lack of movement.
There is always something worth noticing
moment into moment.

And sometimes,you do not need to take a leap.
You only need to take a step.
You only need to trust
it's through the day to day
you will be led to further depths.

So many things in this world grow quickly
but it seems to be that far more
take months, years, decades,
and as enticing as fast growth may seem
it's what comes from the slow growth that stays.

So let yourself grow slowly,
let yourself trust,
your roots
are growing deeper
with every morning sun.
And from day to day,
month to month,
it matters how far you have come.

Do not be discouraged
by those who are rushing around you.
Time moves quickly,
but it will not move any quicker
than it is moving right now
and even the fastest, most efficient amongst us
will eventually slow down
to this sweet remembrance:
slowness is not weakness
it is simply how
many things must grow.

So may today be one of those days
you take it all moment by moment
rushing in and out of nothing
showing up, as you are, unhurried.
For even here in the chaos of it all
you are allowed to slow down and breathe,
finding brave and brand new ways
to see every present day
as something meaningful,
strangely beautiful,
and even in the slowness,
worth living for.

You are already a little further than you were a month ago.
You are already a little further than you were a month ago.

- MHN