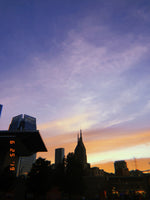 The Grass Is Always Greener Where You Water It
The grass is always greener where you water it.
As much as I wanted to say I'd missed New York City, I really didn't. Moving back to Nashville felt like such a natural thing to do, and I was greeted with open arms and a new job; a new place to live and a fab roommate. I romanticized it a bit: the slow pace of the South, the fireflies that lit up dusk in the summer, front porches, sweet tea with copious amounts of sugar, rainy days (probably more of these than we'd all like to admit). 
And then came the first knock down, drag out, kind of day where my heart just ached to be back in that bustling city of mine. To hear the sirens and car horns and know that around me, things were ALIVE. 
The grass is always greener, right?
I held these moments close to my heart to process for a few months and didn't have the words to say out loud to anyone I knew. Four months into my move from New York to Nashville, my job's contract ended unexpectedly. In New York, I had dreamed up this long term transition into a film career, and then suddenly...I didn't get to dream about it anymore. And then, sneakily, I felt it creep in.
Shame.
Shame for not living up to my expectations; shame for not living up to everyone else's. My whimsical new move felt tainted with failure and then New York City, as hard as it had been, suddenly looked shiny and new again. I found myself aching for it. 
My quick escapes and glances back and forth were only giving me whiplash, and it was starting to hurt. 
In every place that I've ever lived, I've seen incomprehensible beauty and experienced complete despair. It seems so much easier for us to look at the hard things, throw our hands in the air, and look for a way out, but I think we might be missing something. It's always more preferable to try to escape than to dig down deep, plant those seeds and watch them grow. A good garden takes time, water, and glimpses of light. Mine did. Still does. 
A season that felt so overwhelming to me became full of stories I'll tell for a lifetime, and some that I'll continue to share as time goes on. I've seen nothing but faithfulness and kindness and I'm covered in peace. Even in times of heartache, anxiety, and the unknown, I'm learning to hold on to peace by creating space for personal rest and cultivating beauty around me. I'm learning to see that sometimes, this is what faithfulness looks like: a snack in my cupboard, a candle to light up my home, a kind word from a friend, a glimpse of things unearthly. Kindness sometimes looks like a crooked smile over a Zoom call or sending flowers to a friend's door or asking what someone needs at this time. Perhaps the simple things are going to be the things that keep us alive and well. 
Life's full of blessing, planting, and nurturing, no matter where we're living, or what we're doing.
So let's go water that grass. I'll be in the house beside you.