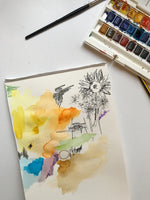 Our Favorite Creations This Week!
So here we are, week two into our #MakeThingsApril partnership with HitRECord, and we've seen the most glorious things come to life: made by YOU. From the simple to the extravagant, your #MakeThingsApril and fan art has breathed some life into this little community, and we wanted to feature some of our favorites. We'll let the art speak for itself. 
What lovely things will come out of this season! Keep dreaming and creating together! Let's inspire each other. 
From @lauriuss: 
from @ishmael_villanueva: 
from @devonlyploen: 
from @junaskrami (and cross-stitched by @pjboyajian!)
from @robertlevicooper: 
from @rida.sandhu: