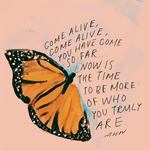 Now is the Time to Be More of Who You Truly Are
Midnight is over.
Morning is here.
Emerge and live freely
beyond your old fears.

After everything you have even though,
this day is brand new
and you are so much more
than all that lies behind you.

There is so much still unknown
and many ways for you to grow,
but may you never underestimate the depths
that grace is running through your soul.

Even here, there is hope.
You are free to start again.
Look beyond your fears,
and see where Light gets in.

For years,
so many things
have held you back:
"I'm too much of this"
and "I'm not enough of that" but
all along, you have learning
to trust
grow
and be,
to unfold and emerge
from your cocoon
alive
free.

Come alive
Come alive
You have come
so far.
Now is to time
to be more
of who you are.
- MHN