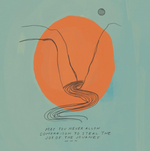 May You Never Allow Comparison to Steal the Joy of Your Journey
Just because they're succeeding before you that does not mean they're succeeding in replacement of you. Even if they came up after you and are doing the same exact things you dreamed you would do, they still have not replaced you. Even if you put years into your passions and projects, they are not still not invalidated by those who are pursuing similar things.

You may notice the places where your timeline doesn't seem to measure up to theirs. You may notice the places where you were met with rejection were the very same places where they were met with open-armed acceptance. And as painful as it is to think about, this is true: some people may close the same door on you that they so easily opened for others. Some people may give half of what you gave only to receive what seems to be twice as much in return.

This hurts. It's unfair. And there's no hiding the many feelings that rise from this.

This happens because no two people's stories are the same. We don't know the inner workings that led to where they are today; whether it was what they received by some unseen merit, or something they received by radical grace, we can never know the fully story of what got them here today.

But here's the other side of it: because no two people's stories are the same, and there is no way to know when, where, or how things will play out, you can know this to be true: what they have done with their lives does not limit you. The mere fact that you don't know their full story and never will means that you cannot truly compare your life, or your mountains and valleys to theirs.
- MHN