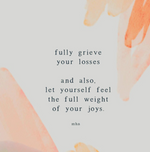 Let Yourself Feel the Full Weight of Your Joys
fully grieve
your losses
and also, let yourself feel
the full weight of your joys.

if the conversation that night
felt like poetry,
then let it be poetry.

if their laughter
felt like music,
then let it be music.

let what is beautiful
be beautiful.
let it speak to you forever.
even if beautiful things
only ever seem to live in your memory,
as old photographs become closed-off
portals
to a time you can never get back to you
may you know this to be true:

it's really hard to fully notice
what is beautiful in real-time,
but when you look
you will find
it was real,
and your soul
still knows it.
so hold on to it
and trust:
there is still more to come.

let joy be joy.
let what was beautiful
be beautiful.
even if it seems fleeting,

trust

you will find it again.

we tell ourselves
so many stories.
here's to making room for
beautiful ones.