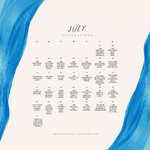 July 2022 Affirmations Wallpapers by Morgan Harper Nichols for Garden24 (Free Download)
Affirmations For July 2022
We hope that these 31 days of affirmations can encourage you to slow down for a moment each day to take a deep breath.
At Garden24, we're all about discovering ways that art can share a hopeful message, even in the smallest way…and we'd love for you to join us in repeating these affirmations each day!
31 Affirmations for July to Help You Keep Breathing Through Each Day:
Download the graphics below for phone wallpapers, desktop wallpapers, and more.
DESKTOP WALLPAPER VERSIONS
PHONE WALLPAPER VERSIONS
TABLET WALLPAPER VERSIONS
SQUARE FORMAT
Feel free to share them on social media with the hashtag #garden24affirmations - we can't wait to see your posts! - Morgan Harper Nichols + Garden24