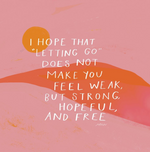 I Hope That Letting Go Does Not Make You Feel Weak
I hope you know that "letting go" does not mean you're giving up.
It just means that after all this time, you are finally beginning to see:
even without the closure: you are worth the new beginning.
And it is okay if letting go leaves you feeling tender…
it is okay if takes time to get used to the rhythms of a new beginning.
What matters is that you remember that as you leave the past behind,
there is grace and there is time to slowly
learn the way to breathe in this new space.
Be kind to yourself here.
All of this new territory for you.
And it is okay if all of the newness takes some time to get used to.
Letting go
is anything but easy,
and this is also true:
even here,
there is more ahead of you.
Pace yourself.
There is more ahead of you.

-MHN