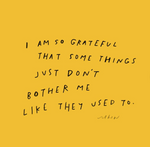 I Am So Grateful That Some Things Just Don't Bother Me Like They Used To
I am so grateful that some things just don't bother me like they used to. I am so grateful that some of the places where I used to hope that some day they would see what I was worth have now faded into memories. Lessons learned. There are rooms I never made it into. There will forever be that one "yes" I never received. And yet, now I see: all along, there were other rooms. There were other places where I would bloom.

I hope I always remember this.
I hope I always remember this when I feel the urge to create or dream or do anything in hopes that this will finally be the thing that makes me seem more interesting or worthy or important. I hope I continue to fall in love with the process, the journey itself.

I hope this for you, too. I hope you are able to look back and see that even though you couldn't see it at the time, other doors would open. Another "yes" would come — a "yes" you uttered in the bathroom mirror staring at your own reflection. A "yes" that you said to that part of you that became so weary of the "no's": "yes, you will continue. As long as you are living, there is more ahead of you. You have known heartbreak and you have also known the morning sun: a glorious daily reminder that even here, there is more to come.
- MHN