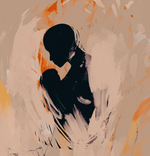 For Whatever Sorrow, May Joy Find You Too
For whatever sorrow finds you
may joy find you, too.
And though the future is
lines with unknowns,
I hope it is also lined with hope.
Many you find small reminders of peace
right here in the chaos of things.

For I cannot tell you
what will happen
but things will be different,
in the morning
when the sunlight pours in,
and will feel warmth
on your skin
that reminds you:
no matter
the times you have felt lost,
you are free
to start again.

May you always slow down
and notice
when joy shows up
in unexpected places.
-MHN