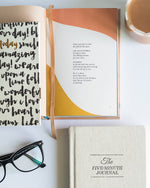 All Along You Were Blooming (In Your Homes!)
It's been about three months since "All Along You Were Blooming" was released, and we've just loved seeing the way that these poems, stories, and artwork have impacted you. This book has lived in your living rooms, on the beach, on trips home. It's made its way to coffee shops and on front porches and to countries around the world. 
This week, we reached out to our community to see what pages made an impact. We had such a wide array of responses - here are some of the special pages we've seen.
Keep tagging us in #AllAlongYouWereBlooming! Next week, we'd love to see some of the art and journals that you guys have made that were inspired by these words! 
Vannah McKee
Thanks for being part of this little community. Word by word, little by little, let's bring joy to the people around us!