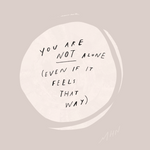 Community Care: Worthy of Support
Every day this week, Morgan Harper Nichols and Garden24 will be shared a Story Series and PDF on the topic of "Community Care."
How To Access: Below, you will find a PDF of the Instagram Stories from today's series as it was featured on Morgan Harper Nichols' story. Underlined text indicates a clickable link.
Thank you for reading and feel free to save and share with a friend!
- Morgan Harper Nichols and Garden24 Team