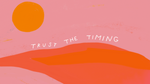 3 Free MHN Summer Wallpapers!
To the ones who have made it to this very day - may you learn that the brilliance of the morning is a gift to be cherished. Every day a new sunrise, every moment a chance to bloom. 
The Garden24 Team wanted to brighten up your space and give you a few free wallpapers as we enter into a new season together. 
Show us how you're using them by tagging @morganharpernichols and @garden24co on Instagram! 
- MHN + The Garden24 Team