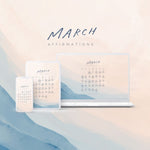 March 2022 Affirmations Wallpapers (Free Download)
When I wrote my book "Peace Is A Practice" I wrote about how encouraging words can bring us peace on a daily basis, even in the smallest ways. I believe this also applies to the words we speak to ourselves. Below, you will find an affirmation for each day of the month of March. These are short phrases you can repeat to yourself each day to be reminded to breathe deep right where you are.
Phone Wallpaper Version
Desktop Wallpaper Version
Tablet Wallpaper Version
Text-Only Version [Copy + Paste Below]
March 2022 Affirmations
"I am practicing peace right here in the in-betweens"
"I am not alone"
"Small progress is still progress"
"I am worthy of the same love I give"
"Yesterday was not the end"
"I belong here just as much as anyone else"
"I am becoming less afraid"
"I am learning each day"
"I am wrapped in endless boundless grace"
"I am free to feel what i need to feel"
"It is not too late for me."
"I am worth the quiet moment"
"I am free to pace myself"
"I am beautiful inside and out"
"I am grateful for slow and steady growth"
"I am letting today be what it needs to be"
"I will bloom how I was meant to"
"I am free to dream a new dream"
"I am free to rest"
"All along, I have been blooming"
"I am releasing worry"
"Even here, I am growing"
"My presence matters"
"Everything is changing and i am changing, too"
"My story is still being written"
"I am growing in wisdom"
"I am free to pursue joy"
"I am grateful"
"I am free to start over"
"Wholeness over perfection"
"I am proud of how far I have come"
---
Well I hope that these affirmations can be encouraging to you in some way! Let me know in the comments which one speaks to you the most. - Morgan Harper Nichols
Important note: these affirmations and all of the contents of this post are for personal use only.