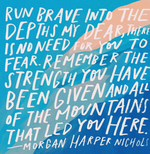 Run Brave Into the Depths
Run brave
into the depths
my dear,
there is no reason
for you
to fear.
Remember all
the strength
you have been given
and every mountain
that led you here.
This is all new place for you
and it brims
with new unknowns,
but there is nothing
you will go through out here
that you will have to go through alone.
And when you feel
that you might sink
Light is still
beneath your feet.
You are still
being guided
right where
you need to be.
- MHN