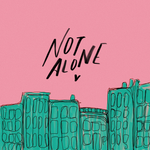 On Gathering (In a Time of Isolation)
It's been a few days bombarded by the news around us. Day ten of quarantine for some of us, day one for others. Every day, it feels like something changes, doesn't it? Twitter's pulled up as I hit refresh one more time - will the next thing affect me? Will it affect my family, my roommates?
The streets seem empty, and for the first time in a long time, I can hear the parrots on the telephone wires talking to each other. It seems like a new routine to fall asleep to silence, wake up to the birds and the light streaming through my window. Morning comes, and my pantry's empty - I drive to the grocery store slowly, taking in the sidewalks around me. A few runners here and there, someone on a walk to get themselves out of the house. Masks on some, not on others. 
What do they feel? Is it like how I feel? 
Anxious about the next order? Grateful for some solitude? 
How do we operate and gather in a season of distance? 
Here are some things that have brought me joy as the world has slowed down a bit: 
A good cup of coffee (or tea or hot chocolate or smoothie) . A few friends of mine have had arranged "coffee dates" - built into the calendar the same way anything else would be. Make coffee at home and Facetime/Google Duo/Facebook Video Messenger/WhatsApp each other to commune with each other.

An amazing book. Exercise those imagination skills.  I've got so many books on my shelf that I've always talked about reading, but always found an excuse to...not read. Create a virtual book club. Read a few chapters together. Sit down for hours this weekend and knock an adventure out. 

Be realistic with each other about what you need in this season. Us extroverts still need time to talk things out with each other, but check in on your introvert friends, too. Make a plan to hop on the phone with each other a couple of times a week to check in and talk about something other than the latest update in the news. We live in the coolest century where video chatting is a thing - let's make the Jetsons proud. 

Move around. Take a short walk around the block, sit on your porch, move from your bed to the living room. Do a few push ups. Try to keep as much of a routine as you can while being at home. 

Create. I cannot stress this enough. That can look like painting your nails, trying a watercolor painting, writing in your journal, cooking a meal, singing a song, making a list, grandma-knitting while watching Netflix. Your body will thank you for moving, creating, being in this season. 
The truth is: no one knows what gathering looks like in this season. It's all unprecedented territory - we're making it up as we go along. Most of the time, I feel like maybe I'm the only one that feels my feelings about everything around me. Truth is, we all feel that way - maybe we're more alike than we know. We're not alone. 
To a new kind of gathering in these weeks ahead. 
Tell us what you're doing to stay connected! 
- Ashley Gurulé
@ashleygurule