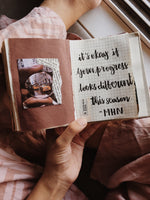 I've found myself journaling a bit more these days. LA County has been on an intense lockdown for a while, and as the days pass, I've loved putting my thoughts on paper to make sense of all of them. I always thought that when I wrote them down, I had the ability to let them go. Last night, I read through an old journal, full of thoughts, prayers, hopes and dreams. Some things I'm still hoping for. Some things have come to life.
Last week, we found you guys reading "All Along You Were Blooming" in different spots around your homes. This week, we found your journals! It's been such a joy watching you guys fill your pages with Morgan Harper Nichols and "All Along You Were Blooming" quotes.
We've reached out to a few of you to share your pages, and here are some of the creative ones we've seen! 
Keep tagging us as you #fillthepage! 
Thank you for the way you guys have contributed - we want to keep seeing your creations! 
Until next time, 
The Garden24 Team